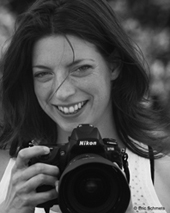 Sanja Harris studied at the Dutch art academies of Tilburg and Maastricht. At the age of 21 she moved to Amsterdam and became the assistant to fashion photographer, Marijke Aerden. Sanja started to shoot for magazines such as Flair, Yes, Micro Gids and Leven in Frankrijk.

In 2004 Sanja took part in and photographed the first edition of the Amsterdam-Dakar Rally. Her series was published and complimented in the column 'Signalement' of the professional photo journal PF.
'Sanja Harris applies in a natural way the unwritten laws of a good picture story and has an excellent feeling for timing and atmosphere… ' Herman Hoeneveld

In 2007 she shifted her focus to organizing stage arts. During the following two years, Sanja worked for De Balie, Juni Kunstmaand, NJO Muziekzomer Gelderland and Festival Achter de Linie.

In 2009 she reconnected with her camera.
Still fascinated by stage arts, Sanja worked with various musicians.
Her photos have been used for websites, promotion and CD booklets.
Among them award winners: recorder player Erik Bosgraaf, guitarist Izhar Elias and pianist Pascal Meyer.
Sanja worked with Radio Kootwijk Live, a multidisciplinary group that develops new concert forms. Among them award winners: tap dancer Marije Nie, harpist Miriam Overlach, bassoonist Bram van Sambeek and double bass player Rick Stotijn.

In 2012, Sanja was assigned to make the festival image for the NJO Muziekzomer Gelderland of violinist Emmy Storms. NJO Muziekzomer Gelderland is a two-week music festival that takes place in the Dutch province Gelderland.

In 2013 Sanja was asked to portrait the baroque orchestra, Les Ambassadeurs. It is led by conductor/director and flute player Alexis Kossenko and with concertmaster, violinist Zefira Valova.

In 2012/2013 Sanja collaborated with sound artist Rutger Zuydervelt, aka Machinefabriek. Together they developed the multidiscipline project, Machine Rooms. Sound recordings and photographs were made in two machine rooms of the former newspaper printer building, now club/restaurant/cultural hotspot, Trouw Amsterdam. The result was an audio-visual project consisting of a cd, a series of cards, two downloadable videos and a pdf document. 'Machine Rooms' was published by Kesh Recordings.

Sanja has had assignments for different companies and institutions. Her photos have been used for communication purposes as websites, press relies', annual reports and trainings. Among them were clients: Sabic Capital, GGD Amsterdam, Internos Real Investors, Paapst & van Dam, Houthoff Buruma, Viaduin Adviezen, Hoofd & Schouders/ RAVU and Erasmus University.